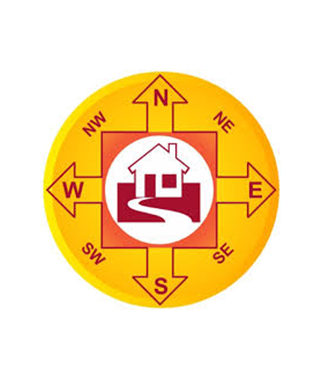 Vastu Shastra
We all know our life is full of difficulty and strive, but we can solve some problems of our life. Vastu shastra provide ways to get comfort in our life, free from all problems, feel pleasure in life and always live free from tension etc. Inappropriate formation of a house, apartments, Flats, Buildings or an office building may negative affect on someone's life or may generate some problems in living life. We have to believe that many people are truely in problem for meaningless crisis at home, office, Buildings etc. If We follow Vastu tips then we are free from meaningless problems and crisis at home, Flats, Buildings, office etc. So we need to follow some tips of vastu shastra during construction of house, office, building etc.
Concept of Vastu Shastra
Vastu shastra is the sector of mystery Science. It concern with directions of houses, apartments, Flats, Buildings or an office buildings that includes five important elements of nature. These elements are Space, Earth, Air, Fire and Water. These elements have significant facts between man and material. There are number of techniques available that observe soil and quality of land, house, Buildings etc. We need to make and design our house according to Vastu shastra it provide posistive energy, Prosperity and healthier life. It removes negative thoughts and energy form your house, apartments offices and make happier life. The house, officess, buildings with appropriate directions according to vastu makes better quality of life. Buildings with wrong direction generate pointless crisis and problems in life. Vastu shastra have significant role while constructing home, offices, buildings. It have important while buying a land, plot and help to observe shape of land, soil, and which color combination suitable for our house. Vastu Tips for Buying Plots we all know for make a home, offices, Buildings require plots, land etc. when you are going to buy a plot ignore the triangular shape, L-shape, diamond shape and humped shape plots. If you are buying a plot and it is near to public places like temple, hospital or factories etc. You have to considered at least 80 feet distance from public places. According to Vastu tips square shape plots or lands are good for house construction. Vastu advised to avoid start construction if a female member from your house is more than seven months pregnant.
Vastu tips House
Main doors and windows- In a house main gates and windows should be in the east direction. It flow positive energy into the room.
Living room- Ignore the west or south direction when Constructing front room in a house.
Bedroom- For bedroom West or north-west direction are appropriate.
Dining Room- Dining Room should be Near kitchen and south-east, north-west, or north-east corner of the plot are appropriate.
Bathroom- For bathroom south and West direction are suitable.